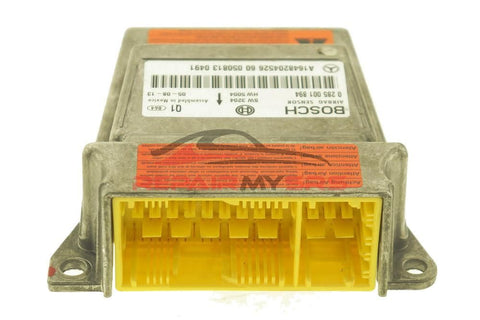 SRS Airbag Module Reset
SRS Module Reset After Accident
Service to reset your SRS airbag module containing crash data and hard codes after accident. Airbags deployed? Airbag light on? Salvage vehicle? Seat belts locked? You need this service. Do not buy a new module wasting hundreds of dollars, reset it for only $49 with us and save! Compatible with most vehicles - if we can't do it you get a full refund.
Crash Data & Hard Codes Removal
If your vehicle has been in a crash, your airbag light is on due to crash data and hard codes stored in the SRS unit. Dealer says you need a new module? No! We can reset and reprogram your existing SRS airbag module back to factory condition. We erase all crash data and hard codes after accident! Hard codes cannot be erased by airbag scan tools and OBD readers, but this service can!
How Does This Work?
Pay for the service online and mail in your airbag module to:

RepairMySRS
40 Main St.
Westfield, MA 01085
Questions? Call (855) 552-7233
This is a SERVICE to RESET your SRS unit after accident. 
If you own a car that has been involved in an accident, chances are your airbag light is on. This airbag light usually indicates that crash data is stored in the unit and may have other hard codes related to the airbags, seat belt retractors, pretensioners and buckles. A regular OBD scan tool will only read the codes with capability to reset soft codes. We are able to clear, erase and reset all of your crash data and hard codes stored in the SRS module. Most SRS modules are located under the center console, under the steering wheel and under the driver or passenger seat. Always make sure your battery is disconnected when working with the airbag system.
Compatible with most Acura, Chevy, Ford, Honda, Hyundai, Infiniti, KIA, Nissan, Scion, Toyota models and more! For compatibility, please call (855) 552-7233 M-F 9-5 EST.
---
We Also Recommend
---